NEW ENTREPRENEURS ENTER THE MARKET, THANKS TO A SUCCESSFUL SUPREME FLOUR VETKOEK PROMOTION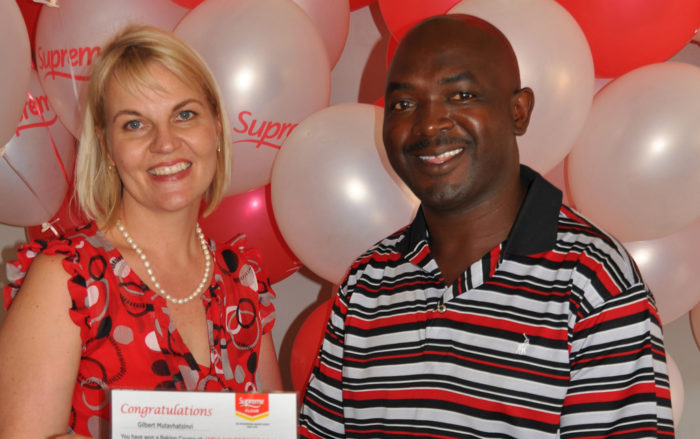 AS A RESULT OF AN ENTREPRENEURIAL DRIVE BY RCL FOODS MILLING'S SUPREME FLOUR BRAND, TEN INDIVIDUALS HAVE WON THEIR OWN SUPREME FLOUR VETKOEK TROLLEYS AND PRIZES FROM THE JABULANI SCHOOL OF COOKING.
"We are extremely pleased with how successful the promotion was over the past six weeks, and are very encouraged with the response from the community," says Senior Brand Manager for Supreme Flour and RCL Foods Milling Liezel van Bergen. "These promoters have became our brand ambassadors and have applied everything that they were taught at the beginning of the promotion."
In conjunction with the Supreme Flour vetkoek promotion, consumers were encouraged to enter a competition where either a Supreme Flour trolley or cooking courses from Jabulani School of Cooking could be won.
The following five people were randomly selected (after being audited) to win the trolleys; Fred Heydenrych, Jerry Manamela, Pantelis, Alfred Lenka Modise and Samson Nhlapo while Tsakani Kamsenza, Pieter Van Der Merwe, Emmanuel Nkoana, Gilbert Mutavhatsinvi and Bianca Mariani drew Jabulani School of Cooking prizes.
Promoters were awarded certificates for successfully completing their training for six weeks, sometimes under difficult circumstances. When speaking to the nine promoters, the overriding sentiment was one of extreme gratitude to a company that is willing to hand over the trolleys and enable them to become self sufficient and to adequately support their families.
Other comments included, Emmah Setshedi: "This is my breakthrough in life", "My stress levels are lower and Supreme Flour has put a smile on my face", Emily Jacob: "This is the biggest opportunity to be my own boss" and Christina Mavuso: "I love cooking and baking and am happy when people enjoy my food".
"All of the promoters were unemployed for a period of time and have now earned the tools required to make a financial success of their future and to successfully enter the bake-for-profit industry," says Liezel. "As many bigger customers will testify to, we take our commitment to our customers very seriously and ensure that their businesses run smoothly, and in this vein we will be supporting our newest entrepreneurs for a period of time."
VETKOEK TROLLEY WINNERS:
Fred Heydenrych
Jerry Manamela
Peter Piperidis
Alfred Lenka Modise
Samson Nhlapo
JABULANI SCHOOL OF COOKING VOUCHER WINNERS:
Tsakani Kamsenza
Pieter Van Der Merwe
Emmanuel Nkoana
Gilbert Mutavhatsinvi
Bianca Mariani