SUPREME FLOUR ANNOUNCES TOP BAKER 2015 WINNERS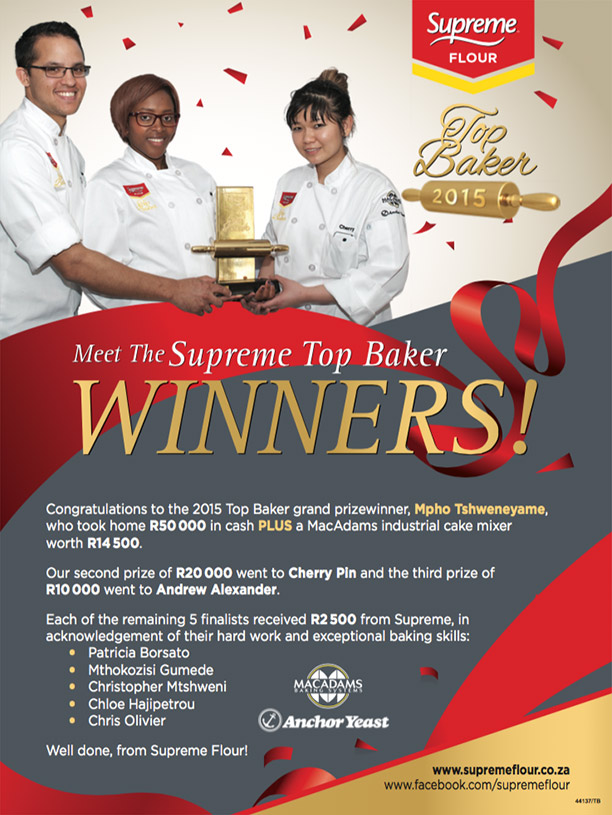 CONGRATULATIONS TO THE WINNERS!
Supreme Flour today announced the winners of the Top Baker 2015 competition, at an awards ceremony held at Long Meadow Function Venue, Monte Casino. The top eight finalists were chosen after taking part in a live bread bake-off on 13 August. Mpho Tshweneyame was named as the Top Baker 2015 winner. She takes home the first prize of R50 000, plus a Macadams cake mixer worth R14 500. Cherry Pin was awarded second prize and wins R20 000, while Andrew Alexander was placed third and wins R10 000. The remaining five finalists all received R2 500 in cash.
Liezel van Bergen, Senior Brand Manager of RCL Food's Milling & Baking Division, had this to say: "Congratulations to our Top Baker 2015 winners. The standard this year was truly excellent, so the judging was no easy task! We are delighted that Gauteng's bread bakers have been so enthusiastic about Top Baker – this year we had over 800 entries, compared to 300 last year, our inaugural Top Baker compeition. That's an increase of more than 260%!"
The Supreme Flour Top Baker competition has been established by Supreme in order to drive the passion of baking amongst aspirant young bakers of tomorrow and the professional bakers of today. It provides a credible platform for the recognition of bread bakers in the Gauteng region. The competition also provides the opportunity to introduce Supreme's consistent quality wheat flour products to new bakers. During the course of the competition, bakers familiarise themselves with the numerous support and learning tools Supreme offers, such as Supreme's interactive website, Baking Academy and the expertise of a top technical baking team.
Liezel van Bergen concludes, "It is heartwarming when an initiative such as the Supreme Top Baker competition provides someone with a real chance to change their life. For our 2014 winner, Motubatsi Mosia, Top Baker was a life changer. We are so excited to be offering our winner, Mpho, the opportunity to take a big leap forward in her career!"
With close to 100 years of history, Supreme has become one of South Africa's most loved and trusted wheat flour brands. Established in 1919, the Supreme brand became a firm favourite amongst our country's professional bakers. Supreme is known and respected for offering consistent quality, expertise and service, which has resulted in the brand being a significant player in the professional market. Supreme offers a range of wheat flours and prepared mixes, which are milled at RCL Food's long-standing milling site in Pretoria.
SUPREME TOP BAKER 2015 WINNERS
https://www.youtube.com/watch?feature=player_embedded&v=qxs2KQHiBXo
SUPREME TOP BAKER 2015 HIGHLIGHTS
https://www.youtube.com/watch?feature=player_embedded&v=KLMQdZGQi38