WHOLE WHEAT RAISIN BREAD
Offer your Customers a Whole Wheat Raisin Bread using SUPREME Brown Bread Flour.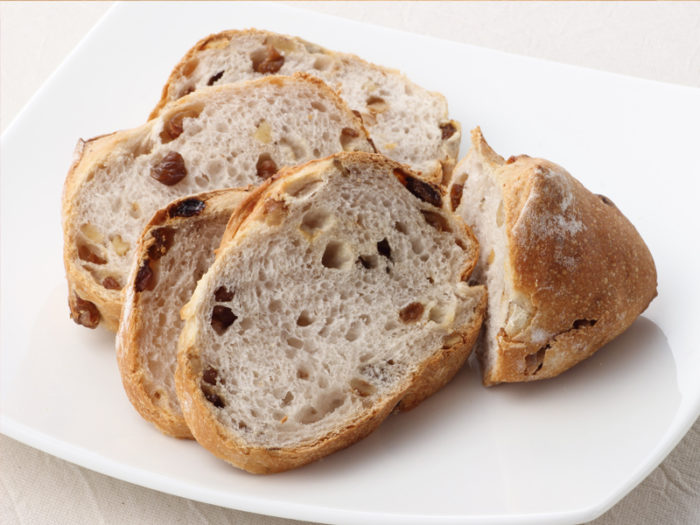 General Info
Preparation: 20 minutes
Baking: 45 minutes
Ready In: 1 hour 5 minutes
Ingredients
1.050 kg Water
1.575 kg SUPREME Brown bread flour
0.790 kg SUPREME White bread flour
0.035 kg Poppy seed
0.035 kg Sesame seed
0.070 kg Bicarbonate of soda
0.035 kg Salt
0.070 kg Sugar
0.245 kg Crushed wheat
0.350 kg Raisins
0.525 kg Cooking oil
0.175 kg Golden syrup
Recipe Instructions
Put water into mixing bowl.
Add the rest of the ingredients and mix for one minute on slow speed to mix all ingredients.
Mix for one minute on high speed until well mixed.
Pour into prepared baking tins. Approximately three quarters full.
Decorate tops as desired.
Bake at 180 °C for 45 minutes or until well baked through.
VARIETIES
For Cranberry and Pecan Bread, replace seeds, crushed wheat and raisins with:
300 kg Dried cranberries
300 kg Chopped pecan nuts
For Spring Onion, Sundried Tomato and Feta Bread, replace with:
100 kg Chopped spring onion
300 kg Chopped sundried tomato
500 kg Cubed feta cheese of your choice
Catch the demonstration and more on our Cake Wheat Flour Baking Module video online.
---