JALAPEÑO CHEDDAR BREAD
Sprinkle with a dusting of parmesan cheese or seasame seeds before baking.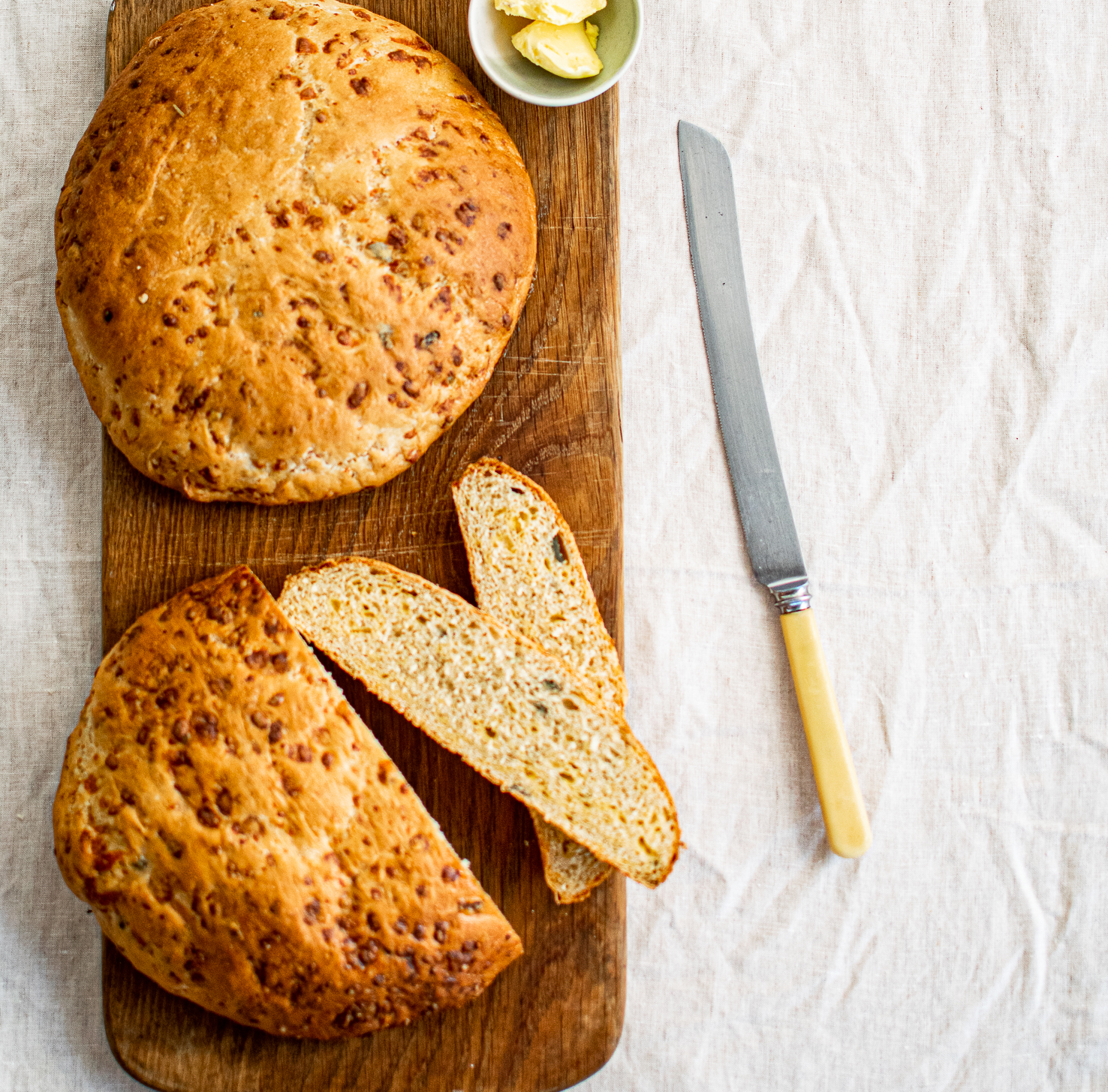 General Info
Preparation: 3 hours 30 minutes
Baking: 35 minutes
Ready In: 4 hours
Servings: 2 Loaves
Ingredients
22.5 ml Dry yeast
250 ml Warm water
5 ml Sugar
185 ml Milk, warmed
500 g SUPREME White bread flour (more as needed)
2 Large jalapeño peppers, coarsely chopped, seeds removed (can use more jalapeño if desired)
7.5 ml Salt
15 ml Sugar
1 Egg, room temperature (let egg sit in hot water for about 5 – 7 minutes to warm if necessary)
5 ml Hot pepper sauce (optional)
625 ml Cheddar cheese (grated)
Egg white mixed
5 ml cold water
Recipe Instructions
1. Dissolve yeast in water with 1 teaspoon sugar for 8 – 10 minutes, or until foamy.
2. Heat milk in the microwave for about 50 seconds on high.
3. In a stainless steel bowl, add in 4 cups flour, chopped jalapeños, salt, sugar, egg, hot pepper sauce (if using) and warmed milk.
4. After the yeast has proved, add to the bowl and start kneading, adding in more flour as needed to create a soft, smooth, semi-sticky, dough. Keep kneading for about 8 – 10 minutes.
5. Towards the end of the kneading, add in cubed cheddar cheese and mix until combined (the dough can be removed from the bowl and you can add / mix in the cheese by hand if desired).
6. After kneading, let the dough sit out on a board or counter top to rest, covered with a clean tea towel for 8 – 10 minutes.
7. Gather up dough and knead gently for 30 seconds. Then place the dough in a well-greased bowl, and let rise until doubled (1 – 1½ hours or could take a little longer).
8. Punch down dough and slice into two even pieces. Shape into two large balls, and place on a greased baking sheet. Cover with a clean tea towel and rise again for another hour or more until doubled.
9. Brush tops with an egg white mixed with 1 teaspoon cold water. Bake in a 180°C oven for about 25 – 35 minutes or until the crust is a dark golden brown.
---