SWEET AND LIGHT HOT CROSS BUNS
Produce round, sweet and light hot cross buns every time.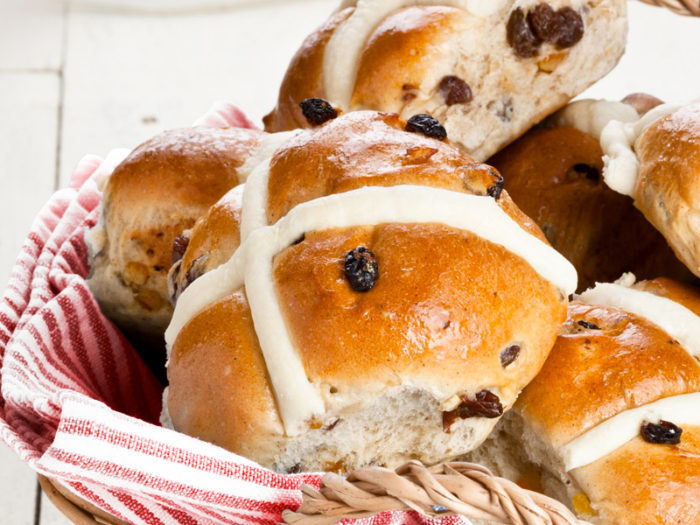 General Info
Preparation: 4 hours 30 minutes
Baking: 20 minutes
Ready In: 4 hours 50 minutes
Servings: 39 Dozen
Ingredients
BUNS
12.5 kg Supreme Sweet and Light Prepared Mix
1 kg Yeast (Compressed) or ⅓ for dry yeast
± 6.4 L Water
300 g Cinnamon
5 g Mixed Spice
20 g Bun Spice
8 kg Baker's Mix
1.9 kg Cross Mix
400 g Bun Glaze
CROSS MIX
1 kg Supreme Wheat Cake Flour
1 kg Corn Flour
20 g Baking Powder
750 ml Oil
1 L Milk
± 500ml Water
GLAZE
600g Sugar
500ml Water
50g Bun Spice
PACKAGING:
Wrap with shrink-wrap, or place in a solid plastic bag.
Recipe Instructions
Place Supreme Sweet and Light Prepared Mix, yeast and water into the mixer.
Mix until partially developed: Spiral mixer – 2 min slow, then 3 min fast speed.
Add cinnamon, mixed spice, ginger and bun spice.
Continue mixing to full development: Spiral mixer – 3 min fast speed.
Add the bakers mix and blend in: Spiral mixer – 2 min SLOW speed.
Place in prover at 40°C and 85% R.h.
Prove until 80% proving has been achieved.
Pipe on crosses with no.4 plain tube.
Bake at 220°C for 20 minutes with NO steam.
Glaze immediately after baking.

N.B. For optimum shelf life and product quality, the Baker's Mix must be conditioned. This is achieved by placing the Baker's Mix in a bucket, and adding water. Blend lightly for a few seconds, and immediately thereafter drain off all of the water. Cover the bucket with a plastic sheet, and allow the raisins to absorb the moisture for ± 4 hours.