STOLLEN
Deliver a delicious, traditional, festive favourite using SUPREME Cake Flour.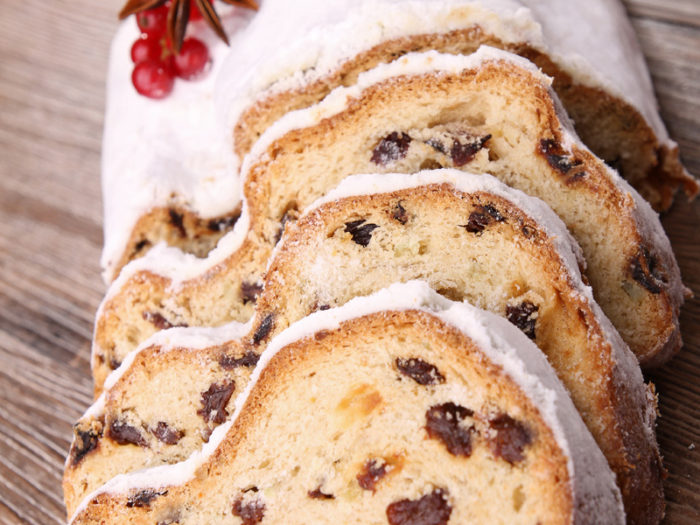 General Info
Preparation: 1 hour 30 minutes
Baking: 45 minutes
Ready In: 2 hours 15 minutes
Servings: 1 loaf
Ingredients
1.000 kg SUPREME Cake flour

0.080 kg Yeast

0.250 kg Milk

0.050 kg Marzipan

0.500 kg White margarine

0.100 kg Sugar

0.015 kg Salt

Lemon

0.800 kg Raisins

0.800 kg Mixed peel

0.300 kg Almonds

0.080 kg Brandy

0.150 kg Yellow margarine (melted)
Recipe Instructions
Place sifted flour into mixing bowl. Add yeast which has been dissolved in warm milk and mix to a fairly stiff sponge. Rest for 45 minutes.

Mix margarine, marzipan and sugar into a paste. When the first mixture is fully proved, add the paste and knead to a fairly firm dough. Add the fruit and nuts which have been prepared the previous day to ensure the brandy is completely soaked in. Allow dough to rest for 10 minutes.

Scale into desired sizes and mould round, then shape into an oblong. Press with a small rolling pin, fold over and place on greased trays. Bake immediately for 45 – 50 minutes at 210°C. Brush with melted margarine and sprinkle with cinnamon sugar.
---