SALTY CHOCOLATE PRETZEL
Use SUPREME Cake Flour to produce delicious Pretzels.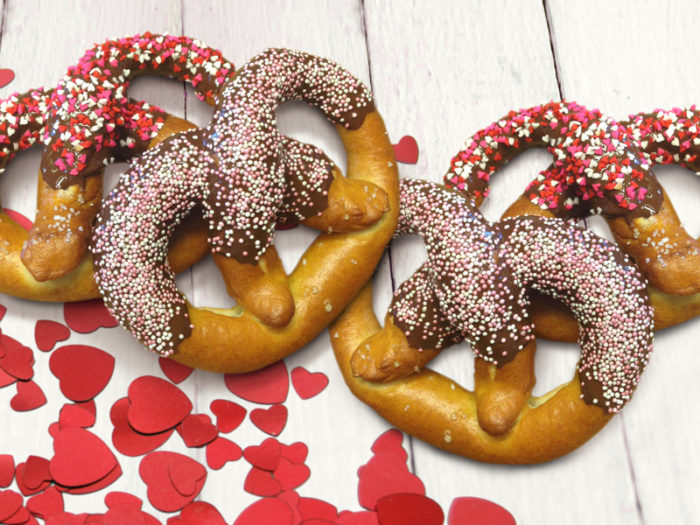 General Info
Preparation: 9 hours
Baking: 15 minutes
Ready In: 9 hours 15 minutes
Servings: Dependent on size of pretzel shapes
Ingredients
1 kg SUPREME Cake Wheat Flour

260 ml Milk (lukewarm)

260 ml Water (lukewarm)

80 g Butter

1 tbsp Brown sugar

2 tsp Instant dried yeast

2 tbsp Salt
FOR THE BOILING SOLUTION:
1.5 L Water

4 tbsp Bicarbonate of soda
FOR TOPPING
Coarse sea salt

400 g Dark Chocolate

Sugar decorations
Recipe Instructions
Add 100g of Supreme Cake Wheat Flour, all of the yeast and the water into a bowl.

Mix, cover with cling film and leave in a warm place for 5 hours to create the yeast flavour.

After that, add the rest of the flour, salt, milk, malt extract and melted butter. Mix and knead the mixture to make a firm dough (around 10 minutes) and leave for approximately 1½ hours or until a point pushed in gently springs back.

When ready, knock the dough back and start forming shapes.

For the traditional shape: Roll the dough out to be a long (40cm) rope with the middle 5cm bulged to a diameter of around 3 cm. Bring the two ends together, overlap them, twist, and bring back to go over the main body. Almost like tying a knot. Leave for 30 minutes uncovered in a warm room to rise and develop.

Bring the 1.5 L water to the boil in a large pot and add the bicarbonate of soda.

Once the dough has risen, place the trays next to a cold window with some wind blowing. A fan can be used if there is no breeze. This develops a skin on the pretzels, which gives that special chewy texture. Once done, drop the shaped dough into the boiling solution (one at a time) until they float (about 5 seconds). Then fish the pretzels out of the water and lay on a baking tray greased with butter. Sprinkle with sea salt and slash the dough at the top-back of each pretzel.

Bake at 180°C for 15 minutes.

Melt the chocolate in a bowl over a pot of boiling water. Dip the top part of the pretzel in the chocolate and place onto a tray. Sprinkle with the decoration and allow to set in a cool place.
---