PRETTY PASTEL PINK OMBRE CAKE
Choose your own colour scheme to create a masterpiece that will wow your guests.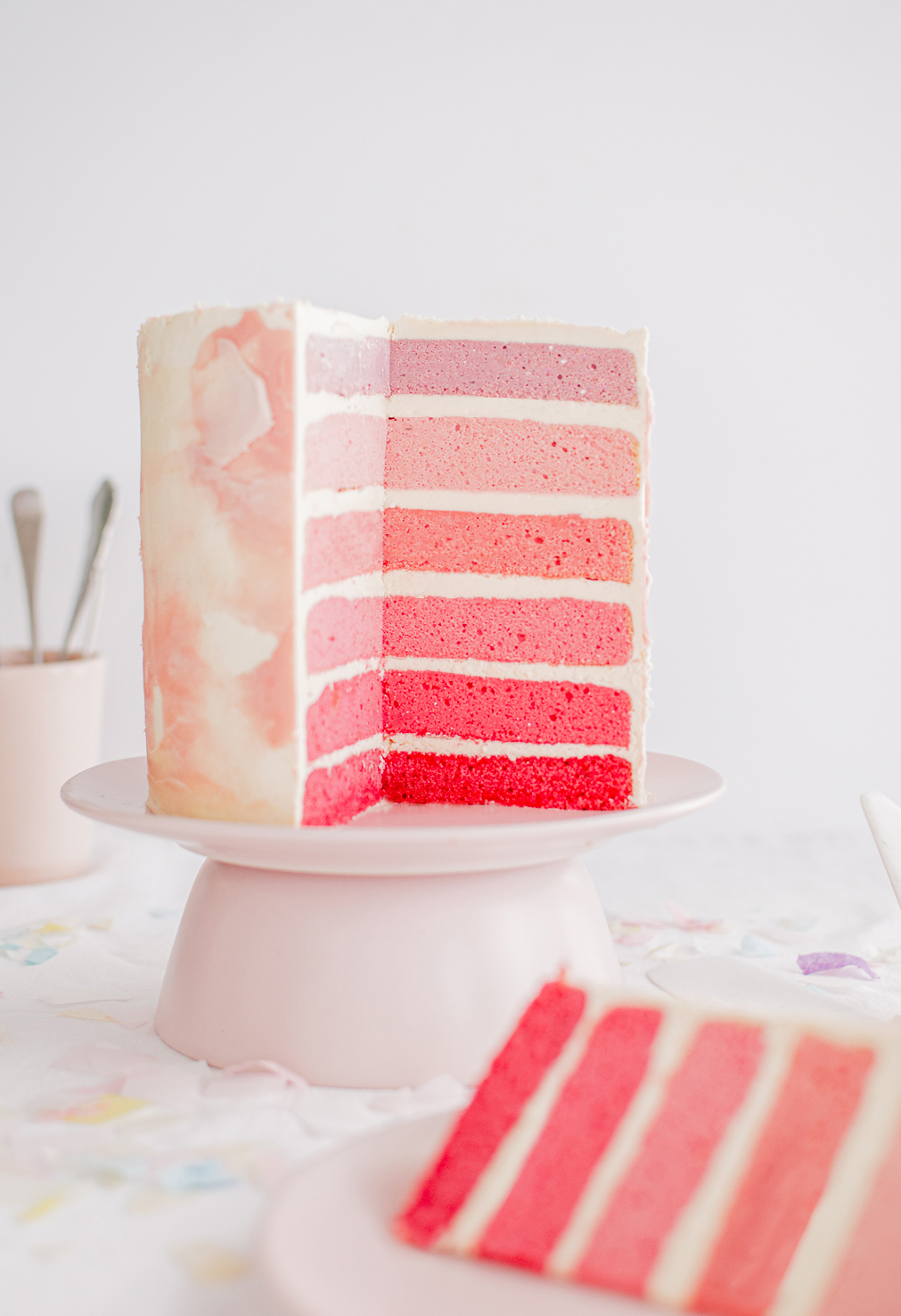 General Info
Preparation: 2 hours
Baking: 25 minutes
Ready In: 2 hours 30 minutes
Servings: 1 Six Layer Cake
Ingredients
Sponge:
250 g Sugar
8 Eggs
360 ml Water
10 ml Vanilla essence
250 g Butter
480 g SUPREME Cake Wheat Flour
10 ml Salt
20 ml Baking powder
Pink and white food colouring
Vanilla Buttercream:
450 g Butter
1.2 kg Icing sugar, sifted
10 ml Vanilla extract
60 ml Milk
Recipe Instructions
For the sponge:
1. Pre-heat oven to 175°C and grease and line six 15cm cake tins.
2. Beat sugar and eggs until fluffy. Heat water, vanilla and butter. Add to egg and sugar mixture and mix until well combined.
3. Sieve all dry ingredients and add to the wet ingredients mixture. Mix until well combined.
4. Divide batter evenly among six small bowls. Starting with the lightest colour, tint batter with food colouring, whisking in a few drops at a time until the desired intensity is reached. Use white colour to soften any colours that are too bright.
5. Pour evenly into the prepared tins. Bake the cakes for 15 to 25 minutes in the pre-heated oven, until a skewer inserted comes out clean. Cool for 10 minutes before removing the cakes from tins to cool.
To make the icing:
6. Cream butter until light and fluffy. Beat in the icing sugar alternately with the milk and vanilla. Beat to a spreading consistency.
7. Colour 125ml of the buttercream a few shades of pink
8. Stack layers according to shade, spreading a layer of buttercream between each.
9. Using an offset spatula, ice the whole cake with a thin layer of buttercream.
10. Leave to set for about 30 minutes in the fridge.
11. Using your spatula, dot and dab the different shades of pink icing onto the iced cake.
---