FESTIVE MINI FRUIT CAKES
A small batch recipe that makes enough cake for 3 mini cakes, the perfect gift for Fruit cake lovers!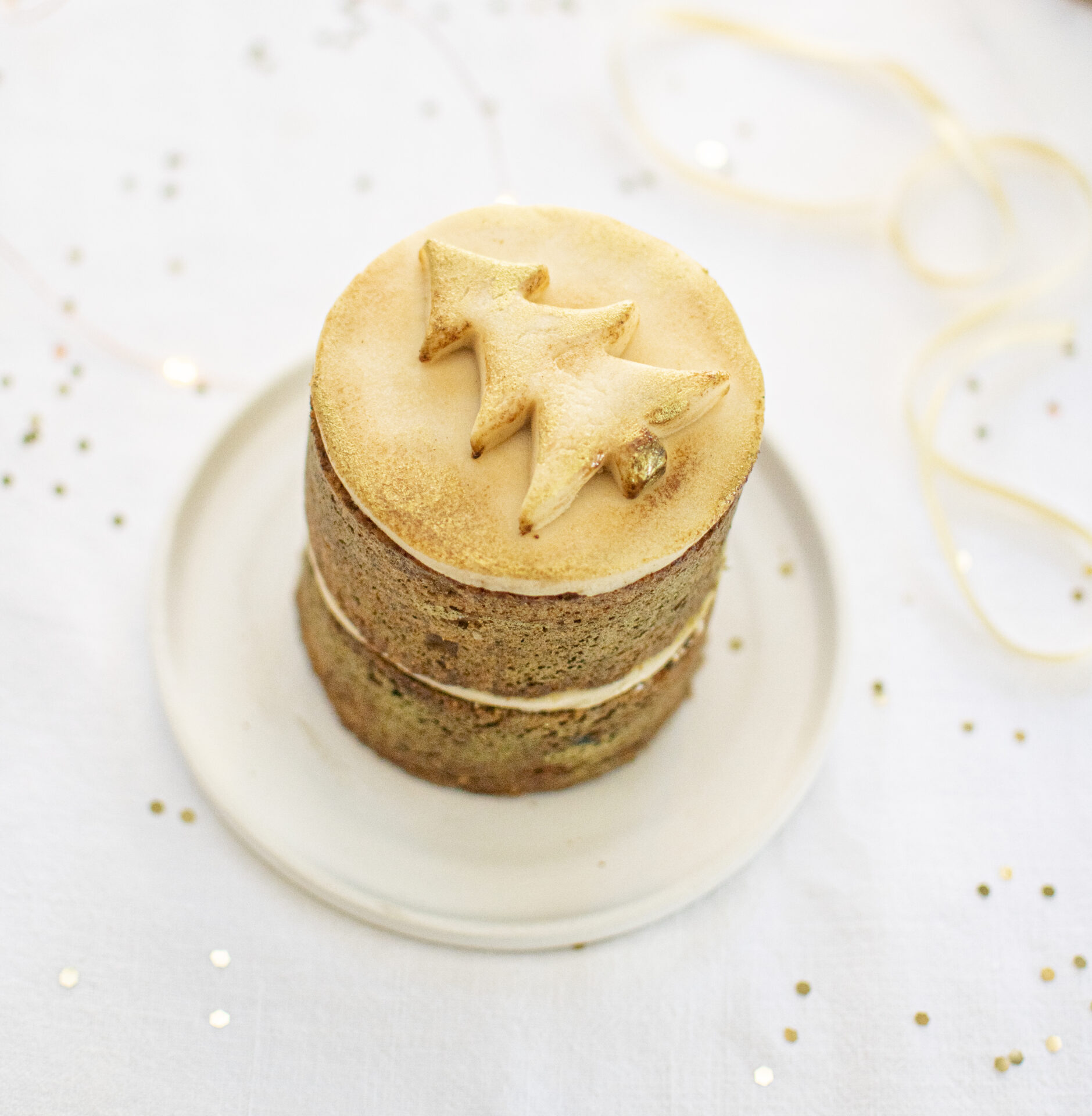 General Info
Preparation: 3 hr 15 minutes
Baking: 40 minutes
Ready in: 4 hours
Servings: 3 small cakes about 8cm in diameter each
Ingredients
250 ml Fruit mix
60 ml Mixed peel
60 ml Cherries, chopped
20 g Candied ginger slices, chopped
120 ml Pecan nuts, roughly chopped
Zest of ½ an orange
125 ml Brandy
125 ml Desiccated coconut
60 g Butter
150 g Dark brown sugar
2.5 ml Salt
2 Eggs
5 ml Vanilla essence
125 ml Sour cream
250 g SUPREME Cake Flour
7.5 ml Baking powder
7.5 ml Bicarbonate of soda
5 ml Mixed Spice
Marzipan for decoration
Apricot Jam
Edible gold paint
Recipe Instructions
Preheat the oven to 180C
Grease and line 3 x 8cm cake tins approx. 15cm deep. Alternatively use baked bean or tomato tins.
Soak the fruit mix, candied peel, ginger slices, pecan nuts, cherries and orange zest in the brandy for 2 hours.
Cream the butter and sugar.
Add the vanilla essence, eggs and sour cream and beat together.
Sift together the flour, baking powder, bicarbonate of soda and the mixed spice.
Stir the dry ingredients slowly into the egg and butter mixture until fully incorporated.
Add the soaked fruit mix and the coconut and stir well to combine.
Divide the cake mixture between three tins, just short of 400g each.
Bake for 40 minutes in the oven or until a skewer comes out clean.
Whilst baking roll and cut out your marzipan shapes.
For the top and middle of each cake roll the marzipan to 3-4mm and cut out 6 x 8cm rounds.
For the shape on top of each cake, roll the marzipan to about 10mm thick and cut out your decorative shapes using cookie cutters or stencils. We used stars and Christmas trees.
Remove cakes form the oven and once the cakes are cooled, level the top of each cake and then cut each one in half.
Brush the cut sides of each cake with warmed apricot jam and then place a marzipan round on the bottom half of each cake. Replace the top half of the cake back on top of the marzipan round and then brush the top of each cake with jam and finish off with the second marzipan disc.
Brush the back of your shape with jam and stick in the middle of the top layer of marzipan.
Using a blowtorch lightly torch the marzipan to give a toasted golden look.
Brush with edible gold paint.
---