EVERYDAY CHOCOLATE CAKE
Moist sponge with a hint of coffee. This sponge freezes fantastically for convenience.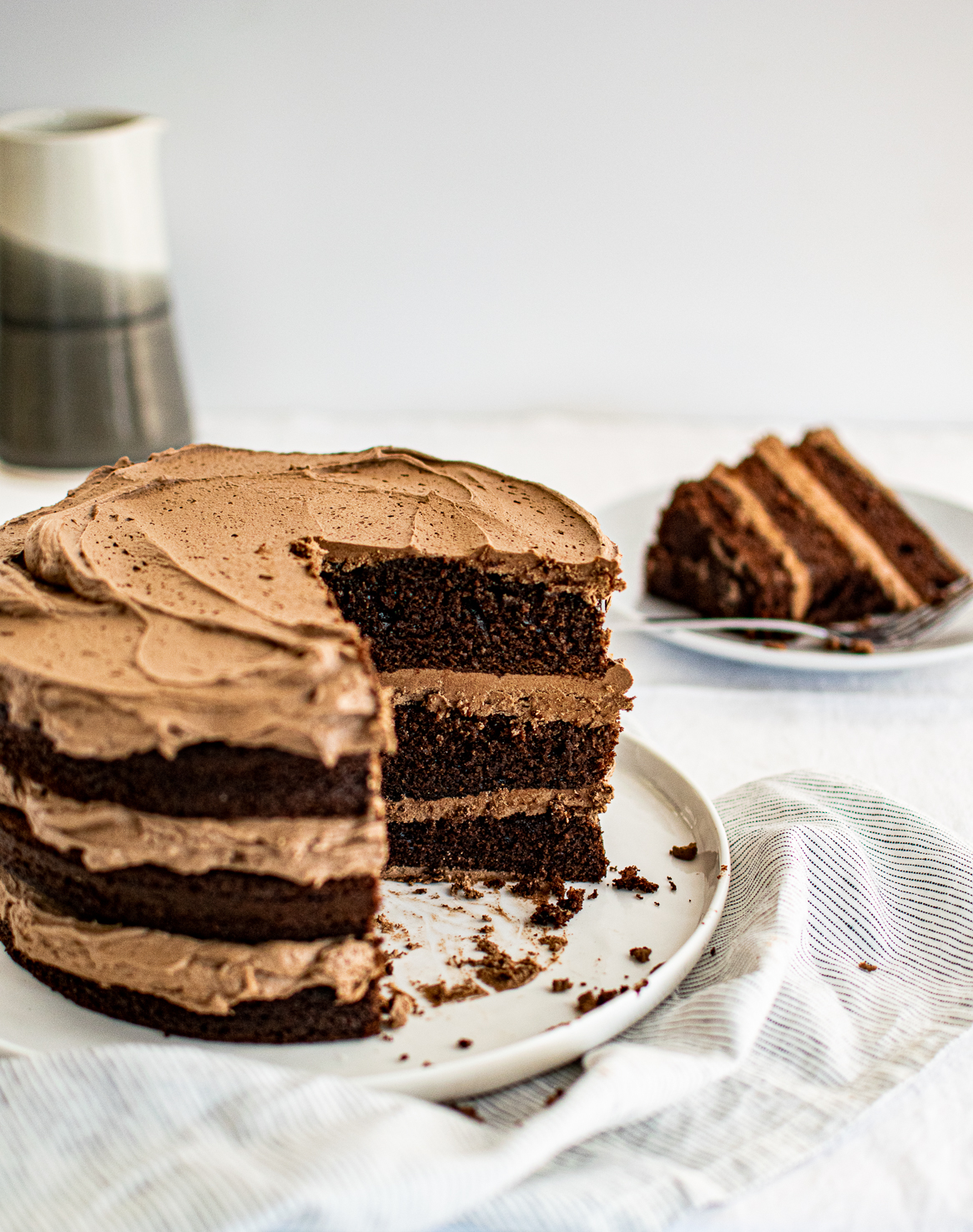 General Info
Preparation: 1 hour
Baking: 1 hour
Ready In: 2 hours
Servings: 3 layer cake
Ingredients
Sponge:
500 ml SUPREME Cake Wheat Flour
500 ml White sugar
185 ml Unsweetened cocoa powder
5 ml Baking powder
5 ml Bicarbonate of soda
5 ml Salt
5 ml Instant coffee granules
250ml Milk
125ml Vegetable oil
2 Large eggs
10 ml Vanilla essence
250 ml Boiling water
Chocolate buttercream:
250 ml Unsweetened cocoa
375 g Butter (softened)
650 g Icing sugar
125 ml Milk
10 ml Vanilla essence
2.5 ml Instant coffee granules
Recipe Instructions
For the sponge:
1. Pre-heat oven to 180°C. Grease 3 x 20cm cake pans.
2. Add flour, sugar, cocoa, baking powder, bicarbonate of soda, salt and coffee granules to a large bowl, whisk through to combine well.
3. Add milk, oil, eggs and vanilla to the flour mixture and mix together until well combined. Slowly add boiling water to the cake batter and beat at high speed for about 1 minute, to add air to the batter.
4. Pour into the 3 cake pans and bake for 30 to 35 minutes or until baked through.
5. Allow to cool for ± 10 minutes. Remove from the pan and cool completely.
For the buttercream:
6. Add the cocoa to a large bowl of a mixer, whisk through to remove any lumps. Add the butter and mix until well combined. Add sugar and milk to the mixture by adding 1 cup sugar, followed by a tablespoon of milk. After each cup, turn the mixer to high speed for about 1 minute. Repeat until all sugar and milk have been added. Add vanilla and coffee granules and combine well. If the frosting appears too wet, add more icing sugar. If too dry, add more milk.
7. Sandwich the 3 cakes using some of the frosting in between. With a spatula, spread frosting on top of the cake until all the frosting is used up.
---