EASTER DONUT WITH BUNNY EARS
A modern take on an Easter favourite!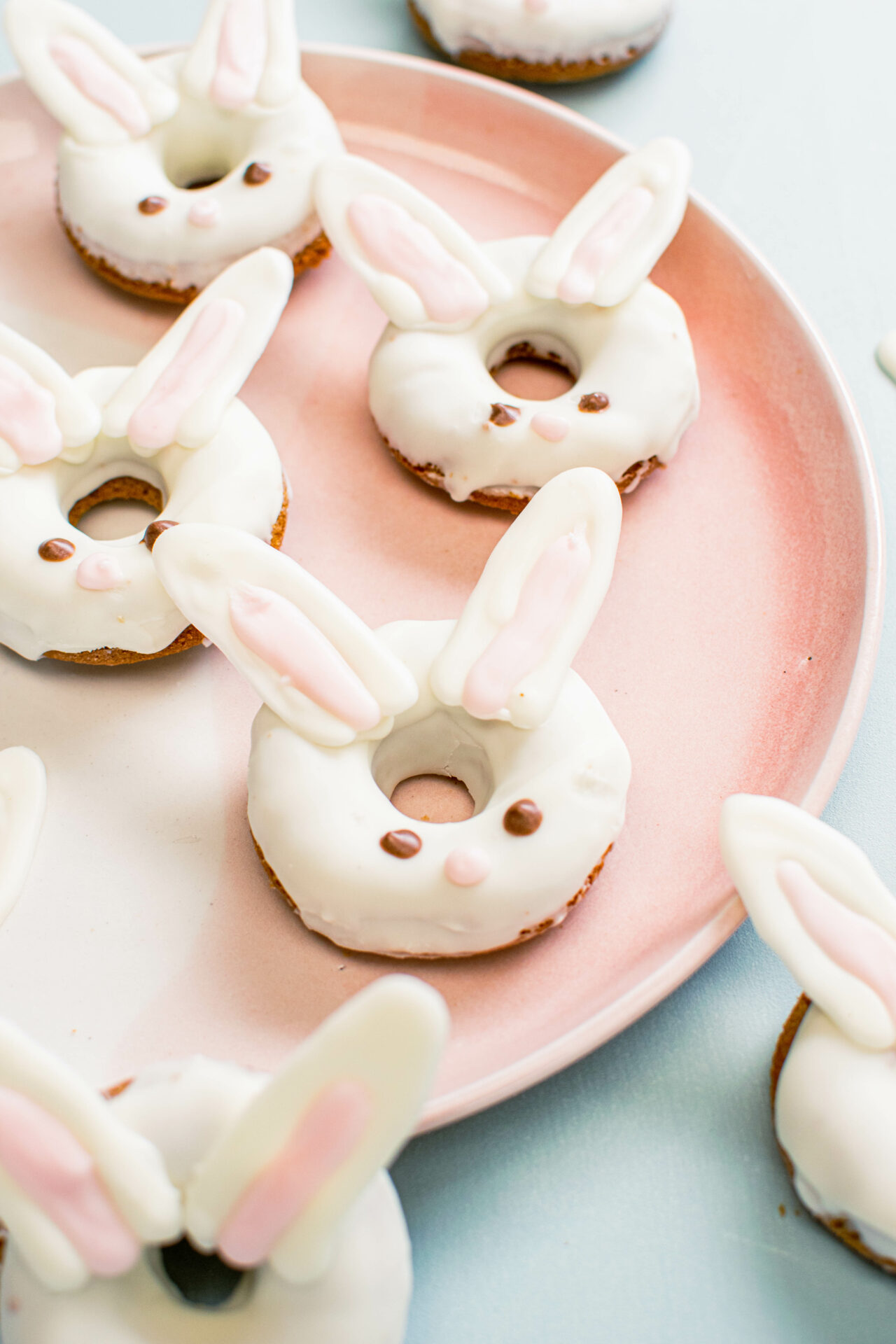 General Info
Servings: 12 donuts
Ingredients
For the donuts:
125 g SUPREME Cake Wheat Flour
5 ml baking powder
2.5 ml bicarb
2.5 ml salt
5 ml cinnamon
2 eggs
100g castor sugar
5 ml vanilla essence
60 ml oil
100 ml plain yogurt/maas
For the decor:
300g white chocolate
White powder colour
Pink powder colour
20g milk chocolate
Recipe Instructions
1.Sieve together the dry ingredients.
2.Whisk the oil and sugar together for 30 seconds.
3.Add the eggs one at a time and beat for 30 seconds after each addition
4.Stir together the yogurt or maas with the vanilla
5.Add the wet and dry ingredients to the egg mixture in alternating increments. Making sure to mix well after each addition.
6.Place the mixture into a piping bag and then pipe the batter into a greased 12 mould donut baking tray.
7.If you don't have a donut baking tray you can make a sheet cake using a baking tray and then cut out the donut shapes using scone or cookie cutters or different size drinking glasses.
8.Bake for 15 minutes at 180°C.
9.Remove from the oven and allow to cool completely.
10.Melt the white chocolate and add white powder colour if you desire.
11.Next, separate a few spoonfuls of melted white chocolate into a small bowl. Add a tiny amount of the pink colour and stir thoroughly to make the soft pink inner ears.
12.Fill a piping bag with a few spoonfuls of the white chocolate to make the ears.
13.Pipe the white chocolate into ear shapes.
14.Leave to set or pop in the fridge for a few minutes.
15.Once the white is set, pipe the pink inner ear into the white chocolate and allow to set.
16.Next use the remaining white chocolate, dip the rounded side of your donuts into the white chocolate, leaving it to set on a cooling rack.
17.Once they are set, place the ears onto each bunny using a little melted chocolate to attach them.
18.Finally, melt the milk chocolate and use a toothpick to make eyes on your bunny and use the remaining pink chocolate and a toothpick to make a pink bunny nose.
---