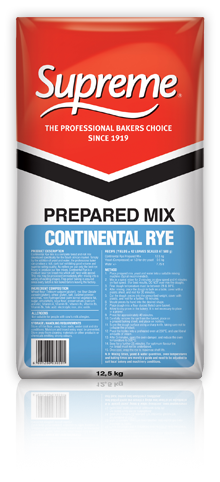 CONTINENTAL RYE IS A COMPLETE BREAD AND ROLL MIX DEVELOPED SPECIFICALLY FOR THE SOUTH AFRICAN MARKET.
Simply by the addition of yeast and water, the professional baker can produce a rich, dark loaf exhibiting good volume and superior eating quality.
As millers, we use only the best rye flours to produce our fine mixes. Continental Rye is a medium sour rye bread mix which will have wide appeal. This mix may be processed immediately after mixing into a variety of exciting shapes. Excellent baking is assured since every batch is test baked before leaving the bakery.
THIS PRODUCT IS IDEALLY SUITED FOR:
Continental Rye Loaves
Continental Rye Rolls
---
Available in these sizes
12,5kg