Mandela Day

Mandela Day is a global call-to-action for citizens of the world to take up the challenge and help change the world for the better.
This year, Supreme visited two deserving South African schools, bringing cupcakes, hot beverages, blankets and joy to the students and staff.
Zodwa Special School was created especially for learners with severe mental disabilities. Situated in Atteridgeville, Pretoria West, Zodwa follows the National Curriculum, and offers a range of courses based on Foundation Phase Skills which include: leather work, bead work, mosaics, arts and crafts, home economics, and more!
The Open Air School situated in Glenwood in Durban, caters for approximately 260 learners, from pre-primary to grade 12, providing education to children with Special Educational Needs. Embracing the school motto, "I can and I will", the learners persevere and many go on to excel in academics, sports and cultural activities, under the loving guidance of the teachers and staff.
It was a supremely rewarding day, not just for the students and staff, but also for our Supreme team, who were incredibly
moved by the love and
gratitude they received at
both schools.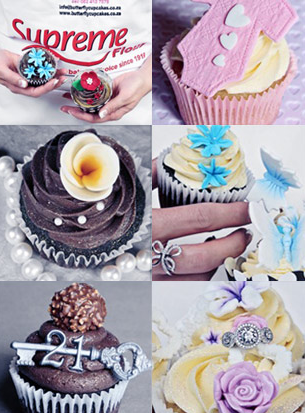 For many years, Butterfly Cupcakes has been providing its clients with gourmet cupcakes in all shapes and sizes for every type of event imaginable. To ensure consistent quality and yields, the company has partnered exclusively with Supreme Flour.
According to Elmarie Erasmus, owner of Butterfly Cupcakes, "Supreme Flour ensures consistent results every time I bake. It saves me money (reduced wastage) and guarantees me a quality end product that helps my business go from strength to strength."
Website: www.butterflycupcakes.co.za
"Supreme Flour ensures consistent results every time I bake. It saves me money (reduced wastage) and guarantees me a quality end product that helps my business go from strength to strength."