VANILLA SWISS ROLL
A whisked sponge recipe for a soft and light Swiss Roll.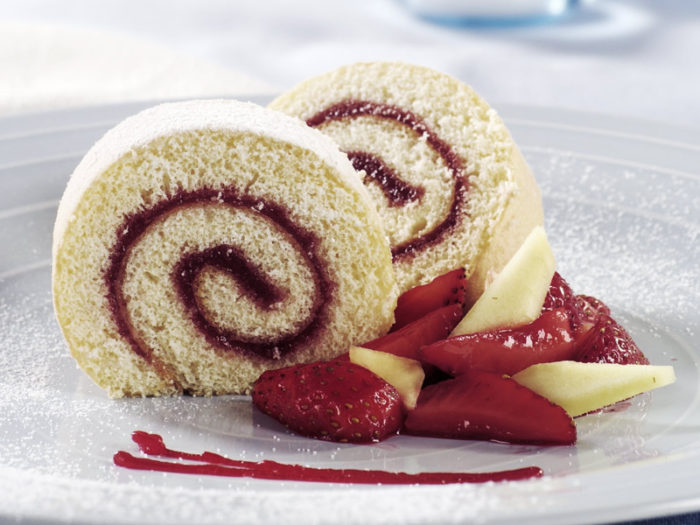 General Info
Preparation: 1 hour
Baking: 8 minutes
Ready In: 1 hour 30 minutes
Servings: Dependant on in-store use
Ingredients
4.7 kg Sponge Mix

2 kg Fresh Eggs

2 L Cold Water (First Part)

0.5 L Cold Water (Second Part)
Recipe Instructions
Place the eggs and water (First Part) into a mixing bowl fitted with a whisk attachment.

Add the sponge mix to the liquids.

Whisk on slow speed until all the ingredients are blended together.

Whisk on top speed for 6 to 8 minutes, until batter has doubled in volume.

Add water (Second Part) to the mix and fold in by HAND. Do not overmix!

The amount of water (Second Part) can be increased to improve pan flow, and to reduce the volume of the baked product.

Line four 75cm x 45cm baking trays with grease proof paper.

Scale 2.3 kg of batter into each pan.

Smooth the surface with your hand, making it as level as possible.

Bake at 250°C for 7 to 8 minutes.

After baking, turn out onto a sugar covered piece of paper.

Spread 600g of apricot jam thinly over the surface and roll up lengthwise.

Cut off the outside edges, and cut the Swiss Roll into 5 even pieces.

N.B: Mixing times, water quantities, oven temperatures and baking times are merely a guide and need to be adjusted to suit local bakery and machinery conditions.