SCONES
Baking scones has never been this easy: Just add milk and eggs to the Prepared Mix and your customers will be enjoying fresh scones every day from your bakery.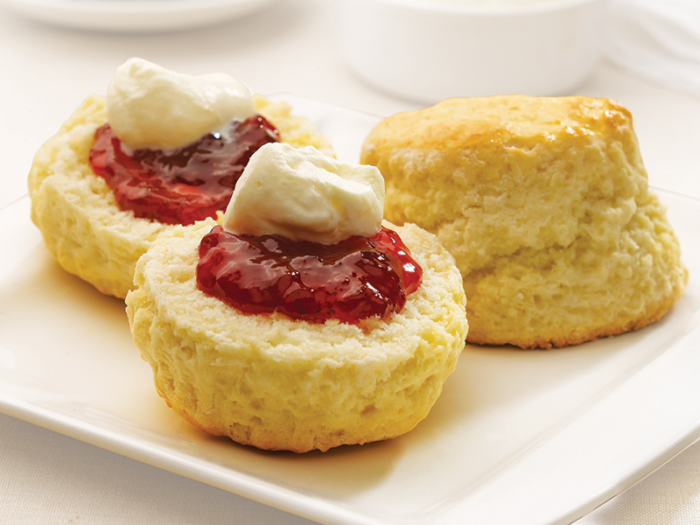 General Info
Preparation: 1 hour
Baking: 15 minutes
Ready In: 1 hour 30 minutes
Servings: Dependant on in-store use
Ingredients
4 kg Super Scone Mix
1.600 kg Milk
0.240 kg Eggs
Recipe Instructions
Place Super Scone Mix into a mixing bowl fitted with a flat beater.
With the machine set on SLOW speed, slowly add the milk and eggs
DO NOT OVERMIX, AND NEVER SWITCH THE MACHINE TO SPEED 3!
Once a smooth dough has been achieved, switch off the machine. (Mixing time should be around 30 seconds.)
Place dough onto a floured surface and roll out to a thickness of ± 2cm.
Cut out scones using a 7 cm cutter. Place scones onto a greaseproof paper lined baking sheet.
Egg wash the top surface and allow to dry prove in the bakery for 25 minutes.
Place pans into a prover, and prove for a further 5 minutes.
Egg wash the surface again.
Bake at 230°C for ± 10 minutes.
NB: Mixing times, oven temperatures and baking times are merely a guide and need to be adjusted to suit local bakery and machinery conditions.
STORAGE / HANDLING REQUIREMENTS
Store off the floor, away from walls, under cool and dry conditions. Moisture and insect entry must be prevented. Store away from cleaning materials or other products or chemicals emitting strong odours.