MARBLE CAKE
Here it is! Supreme Flour's legendary Marble Cake. You're going to love how easy this recipe is.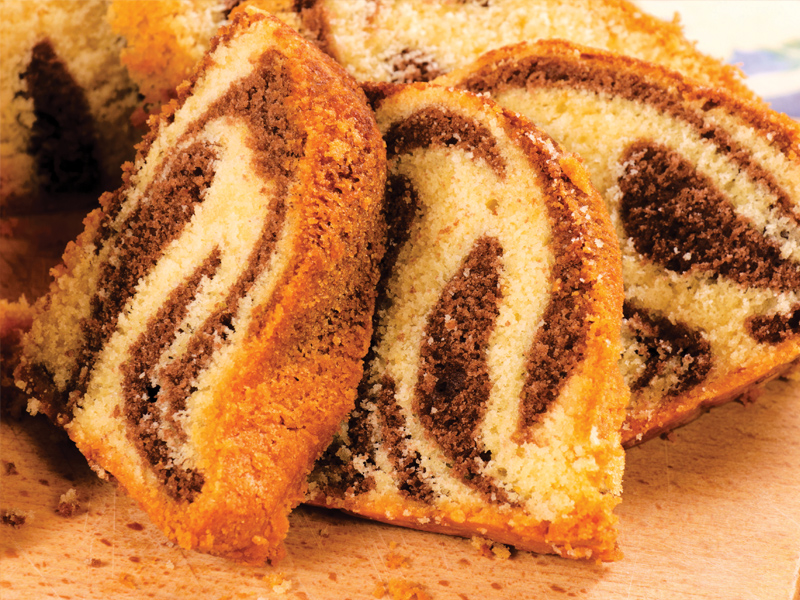 General Info
Preparation: 1 hour
Baking: 30 minutes
Ready In: 1 hour 30 minutes
Servings: 22 Cakes
Ingredients
4 kg Madeira Cake Mix

1.6 kg Oil

1.8 kg Eggs

100 g Cocoa

400 g Water

350 g Scaling weight
Recipe Instructions
Place the Madeira Mix, eggs and water into a mixing bowl.

Using a flat beater, set the mixing machine onto MEDIUM speed and mix together.

Scrape down the mixing bowl, and mix for a further four minutes on the fast speed (speed 3).

Divide batter into two and add cocoa to one half. Using half white and half chocolate, swirl the two batters, but do not mix through.

Scale ± 350g of Madeira batter into a 9191P foil shape.

Using a suitable instrument, flatten out the batter into the foil shape.

Using a sharp knife dipped in cooking oil, place a shallow cut on the surface of the batter (This will ensure a neat split on the surface during baking).

Bake between 180°C and 200°C for ± 30 minutes.

The Marble cake is considered baked when a knife is inserted into the cake and removed without any trace of batter sticking to the knife blade.

Catch the demonstration and more on our Prepared Mix, Madeira Cake Baking Module video online.