DANISH PASTRY
Here it is! Supreme Flour's legendary Danish Pastry. You're going to love how easy this recipe is.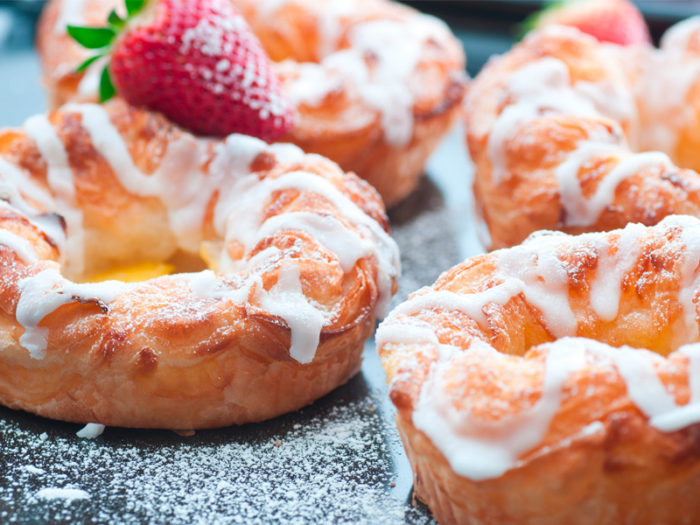 General Info
Preparation: 1 hour
Baking: 15 minutes
Ready In: 1 hour 15 minutes
Servings: 40 pastries
Ingredients
12.5 kg Sweet & Light Prepared Mix

0.625kg Yeast

6.4 L Water

2.15 kg Pastry fat

2.15 kg Butter 
Recipe Instructions
Mix general sweet dough as per recipe.

Mix butter and pastry fat together, flatten, place on greaseproof paper and leave in the fridge for a few hours before processing further. Do not allow butter to become brittle.

Roll out dough using a pastry break or rolling pin.

Place the fat over one half of the dough and fold over to produce a pocket of dough, with the fat on the inside.

Roll out the dough, giving three single book turns, resting for 30 minutes after each fold.

Cover dough with plastic sheets and rest overnight in the fridge. Do not process immediately.

Roll the dough out to no 3 on pastry break or to about 5mm with a rolling pin.

Cut dough into 15 x 15cm squares.

Egg wash the inside, and fill with relevant filling.

Fold into desired shapes and egg wash the outside.

Place pastries onto greased mild steel trays and dry proof until the required size is reached.

Bake at 220°C for ±15 minutes.

Immediately after baking, brush with boiled apricot jam and decorate with fondant.
Catch the demonstration and more on our Sweet & Light Prepared Mix, Baking Module video online.